Health and Safety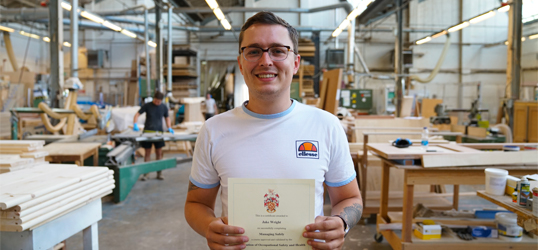 Our buyer Jake received a certificate after completing a health and safety course called IOSH
A few words from Jake,
'This certificate allowed me to be more confident in my Health and Safety role and educated me to identify and resolve many Health and Safety problems I wouldn't have been able to before.
I started off on the bench as an apprentice joiner but the opportunity arose to help in the office as an assistant buyer. As the years went on I progressed to become the buyer and with help from the IOSH course and opportunities given to me at K&D I also became Health and Safety representative.'
K&D staff are always looking to progress and achieve more. Becoming more skilled is key to us growing as a company with skilled craftsmen and having the confidence in ourselves and colleagues of our environment and safety needs.
A current project that is a work in progress for Mulalley & Co.'s, manufacturing over 250 new traditional sliding sash box frame and casement windows and external door sets; this is for Mulalley's major refurbishment project in North London over Summer 2018. Senior Contracts Manager carries out an induction course at K&D Joinery's factory for our fitting team.
K&D Joinery's pledge to health and safety flows from the management to the workshop floor. With the increase in business and the growing workforce required to meet this ongoing demand, we have taken the decision to appoint a dedicated Health and Safety manager. Our Health and safety Director Mick Costello will now be supported by Paul Stanley the assistant workshop manager. Further confirmation indeed, that the management and staff recognise the importance of health and safety in the workplace.
Strengthening and growing the business is a core value held by K&D Joinery. The communication between staff on procedures ensures we operate in a safe environment, and creates a culture of high standards together with safety and respect for staff and customers alike.
K&D continuously look to evaluate and improve procedures, striving for better practices. With regular reviews, set times and dates put in place to check, meet and exceed these requirements. It is a way to evaluate success and implement any changes deemed necessary.
With staff engagement on a daily basis, regular inspection of the workspace and machines; we have a proactive and reactive relation to health and safety.
A trained employee is always the best equipped to make good decisions on the safety procedures set down by the company.
In addition, we have a system in place to consistently review the needs for training including any requirements on new machines and equipment.
We want the K&D team to understand these matters, to protect themselves, colleagues and customers alike, and continue to be diligent of health and safety procedures so at the end of the day, K&D staff can go home to their families safely.