Fineo Glazing a 100% recyclable product at K&D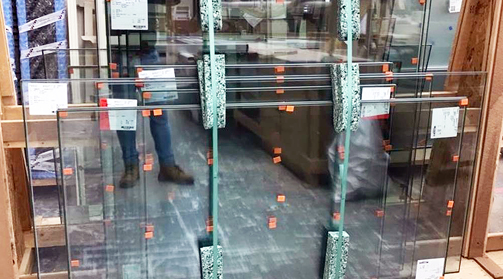 Fineo Vacuum Glass, the future of glazing offers high insulation performance.
We are introducing Fineo Vacuum Glass to K&D Joinery's range of glazing options.
Developed by AGC who are one of the largest flat glass manufacturers in the world.
This incredible product offers superb properties covering the most important areas of glass specification, U Value, Decibel Rating & Light transmission.


Fineo glass has a thermal insulation (U Value) of just 0.7 W/( m2.K) which is equivalent to triple glazing. Traditional triple glazed units are over 30mm thick, Fineo vacuum glass panes start at just under 7mm thick.
Improved noise reduction: Compared to double or even triple glazing, Fineo reduces traffic noise by an additional decibel rating of between 3 db's to 12 db's.
Increased light transmission: Using Fineo glass compared to triple glazing will allow 15% more natural light into the property.
In addition to these three statements Fineo comes with a 15 year guarantee and unlike traditional double or triple glazed units, Fineo is 100% recyclable.


The preservation of the slim line glass with Fineo allows for the more authentic original look if you are trying to replicate a window based on the original style of a property, such as Edwardian or Victorian windows, which will have thin sash bars. This preserves the aesthetic of classic original windows. They will be restored with higher thermally insulated rated, increased light transmission, improved noise reduction glass. Fineo glass is sleeker than double and triple glazing; starting from just 6mm total thickness.

A couple of recent clients have recently requested Fineo glass specifically to be used in their windows. These large-and small-scale projects are striving for a top-quality finish with environmental efficiency. Fineo glass is the leading market option for long term quality and is the latest technologically advanced glazing system available in the UK. K&D Joinery are supplying the demand for this top-quality glazing, Fineo is the setting the highest standard.