Expansion of the K&D factory space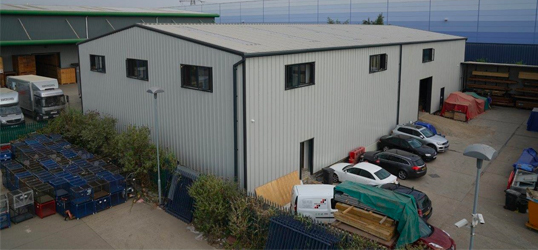 Demand for our traditional, bespoke external and internal joinery continue to grow due to the quality of our products and customer service. This demand has led to the need to vastly  increase our factory workshop and production areas.
The new building will consist of 18,000 square feet and become the new home for our staircase and cabinet making departments. This investment will not only allow us to meet the increased level of business, but allow us to improve efficiency and productivity across the whole of the business.
With London announced as the 2012 Olympic host, K&D Joinery had to vacate from their original factory in Stratford. In 2006 we moved our operation to a 35,000 square foot old steel works in Dagenham, Essex. Converting the factory floor into a modern production facility for the manufacture of high end bespoke joinery.
Since our move to the new premise the company has seen a strong growth in sales year on year.
This continued growth has allowed K&D Joinery to continue investment in the latest technology and machinery available to the joinery manufacturing industry. Along with the extension, recent investment includes its 4th CNC line this year with a new 5 axis Biesse. It is not only the machinery, we also appreciate the quality of our staff both on the factory floor and in our office and have dramatically increased our workforce in all areas of the business. The increase in our dedicated skilled staff requires more space and K&D will see there new 18,000 sqaure foot factory completed and be fully operational towards the begging of autumn 2018. The new building will create a vast new production space and show room.
To improve the durability and stability of products used for external joinery,  the industry has seen significant investment in materials. Technologically advanced woods such as "Accoya" and "Tricoya Medite Extreme" are just two such examples. K&D Joinery continue to be proactive in the use of such materials, meeting  the rapid increase in the way materials are specified for exterior works by architects, designers and developers. This shows the incredible changes we are seeing for the demand within the bespoke joinery industry. The production at K&D has continued to grow not only from private home owners but including projects from architects, developers, housing associations, contractors and local authorities.